Take your brand to the next
level with
TikTok Ads
Looking to take advantage of TikTok's potential but don't know where to begin? Look to our TikTok Ad Agency. With millions of active users and incredible potential, TikTok is the perfect platform for businesses to reach new audiences.
Our agency specializes in creating short, engaging video content that resonates with young audiences. Let us help you tap into the power of TikTok today.
Product research, trend analysis, creative ideation, content creation, influencer outreach, paid media buying, and reporting.
TikTok's Mind-Blowing Statistics
TikTok has rapidly become the world's fastest-growing social networking site, boasting over one billion active users. It achieved this feat in just two years, a figure Facebook and YouTube took eight and nine years to reach, respectively.
With projections estimating monthly users to hit 1.5 billion by 2023, TikTok presents an unparalleled opportunity for eCommerce brands to get their products and services in front of an exponentially growing audience.  TikTok can significantly impact an eCommerce brand's social media marketing strategy in 2022 and beyond.
Incredible Engagement Rates
TikTok's engagement rates are unmatched, with videos regularly receiving millions of views and hundreds of thousands of likes.The average TikTok user spends 52 minutes per day on the app and is more engaged than on any other social media platform.
With over a billion active users and 50% expected growth by 2023, TikTok is the fastest-growing social networking site in the world. It took just two years to achieve the same numbers that Facebook and YouTube achieved in 8 and 9 years, respectively.
If you're not leveraging TikTok's mind-blowing statistics for your social media marketing strategy, you're missing out on a huge potential audience.
Dominated by Generation-Z With Tremendous Buying Power
TikTok's explosive growth is largely driven by Generation Z, with a majority of users born after 1996. This age group wields impressive purchasing power, projected to comprise 50% of the market with $143 billion in spending power by 2022.
TikTok advertising is a critical channel for eCommerce brands looking to reach this demographic. But don't discount the potential of the platform for audiences above 35.
TikTok's reach and engagement provide a prime opportunity for any brand looking to expand its social media presence.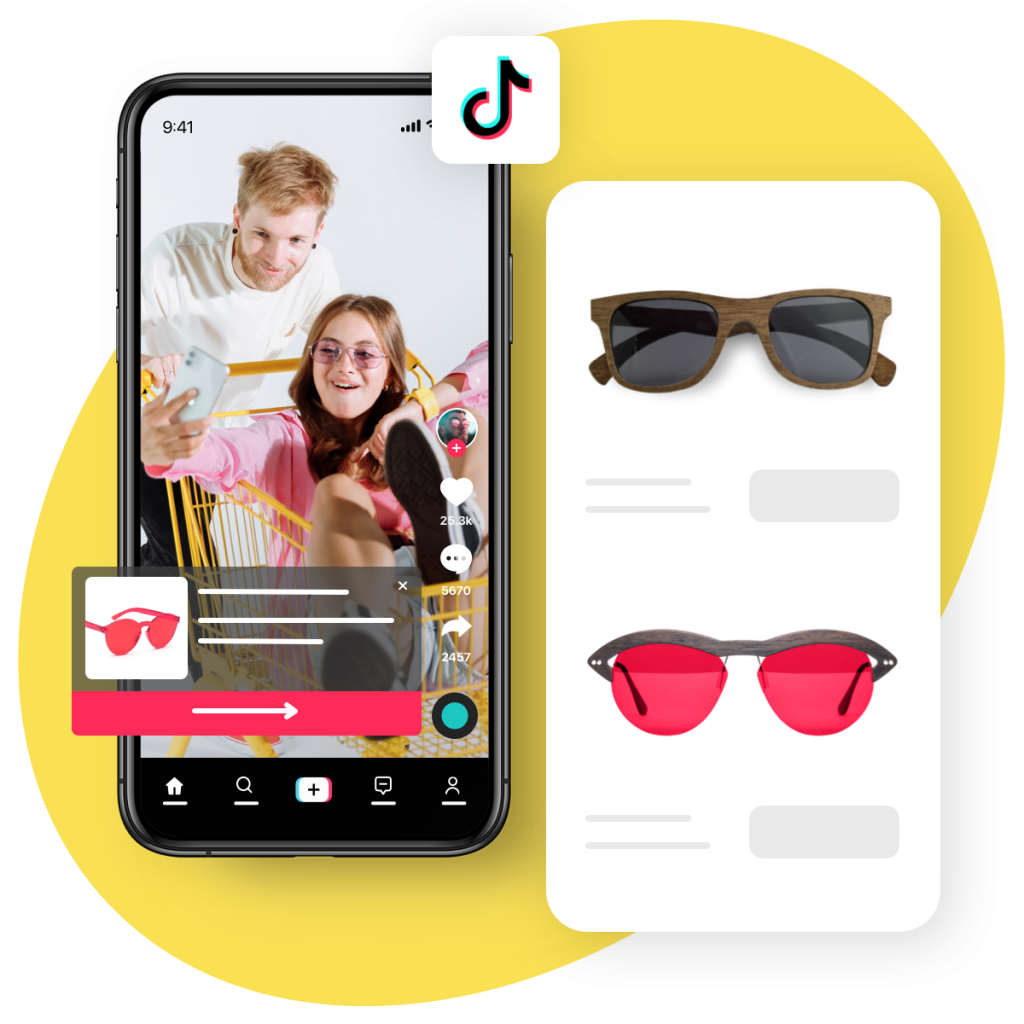 Comprehensive Services for Your Success
Our TikTok marketing agency offers comprehensive services to help you succeed on TikTok. We begin by researching your product and brand, then conduct hashtag and trend research to inform our content ideation and creation. 
We also leverage influencers to scale your content creation efforts, and manage your paid media campaigns from launch to analysis. With our expertise in creating effective native content and running successful ad campaigns, we can help your business thrive on TikTok.
🔥 Powerful Algorithm For Virality
Unlike Facebook or any other platform, the Tiktoks algorithm gives a level playing field for everyone – from big brands to small businesses. The algorithm is designed to surface content that is interesting and engaging, not just from big brands or e-commerce behemoths who throw the most money at it. If you create quality content, it has a good chance of being seen by a large number of people all over the world.
🔥 Unprecedented Advertising Capabilities
The platform enables TikTok advertising agencies to run campaigns in new and unique ways. With hashtag challenges, brand takeovers, and branded Lenses, TikTok advertising enables more accurate targeting and allows brands to get in front of their target market at the right time with the right message. Thanks to the enormous amount of data and accurate AI(artificial intelligence) algorithm, TikTok knows exactly what users want to see, and when they want to see it. Ecommerce stores just need to harness Tiktok's tremendous potential.
Who will benefit from TikTok marketing?
Our solution benefits a diverse range of individuals and businesses looking to grow their online presence, increase sales, and achieve their business goals.
Frequently asked questions
FAQs: TikTok Ads Marketing
Get answers to common questions about our Facebook advertising agency, from ad formats to performance measurement.
How can TikTok ads benefit my business?
TikTok ads can help increase brand awareness, drive website traffic, and generate leads and sales, making it a powerful platform for businesses looking to expand their reach and grow their customer base.
What types of TikTok ads are available?
There are several types of TikTok ads available, including in-feed ads, brand takeover ads, and sponsored hashtag challenges, offering businesses various ways to reach their target audience.
How much does it cost to advertise on TikTok?
TikTok ad costs vary depending on several factors, including ad format, targeting, and duration of the campaign. Boomxoom Digital can help you optimize your ad spend and get the best ROI.
Can I target specific audiences with my ads?
Yes, TikTok offers advanced targeting options such as demographic, interest-based, and behavior-based targeting, allowing businesses to reach their ideal customers on the platform.
How do I measure the success?
TikTok provides detailed analytics to measure the performance of your ad campaign, including impressions, engagement, and conversion rates, helping businesses optimize their ad spend and improve their ROI.
Can I use influencers to promote campaign?
Yes, influencer marketing is a popular and effective way to promote your TikTok ad campaign and reach a wider audience, and Boomxoom Digital can help you find and negotiate with the right influencers for your campaign.
How do I create a TikTok ad campaign?
Boomxoom Digital can help you create and launch a successful TikTok ad campaign, from research and ideation to execution and reporting, ensuring that your ads are optimized for maximum results.
Is TikTok advertising suitable for my business?
TikTok advertising can benefit a wide range of businesses, from e-commerce and app developers to beauty and lifestyle brands, and Boomxoom Digital can help you determine if it's the right fit for your business and create a custom strategy tailored to your specific goals.